François Morelli – Montreal-based multidisciplinary artist
About the Artist
François Morelli pursues a trans-disciplinary practice in drawing, installation, performance, print media and sculpture that questions the status of artworks through their creative process and reception. Interested in notions of passage, circulation and transformation, his art often echoes past actions or events while examining relationships between artist and society, connecting individuals or relating the individual and the artwork.
Find François Morelli's art @ https://instagram.com/francois.morelli/
François Morelli is best known for his hybrid sculptural/graphic installations and peripatetic performances. He develops found imagery and objects into web-like structures that engage with architectural, social and psychological space. His project, Home Wall Drawing (l'art de manger) (2004), conducted in France, involved 22 rubber-stamped wall drawings executed in people's homes in exchange for their favourite home-cooked meals. Table d'hôte (2007), at the Hamilton Art Gallery, used hand-stamped porcelain plates to address the fragility of domestic space through decorative ornamentation and pattern. Hand to Mouth Drawing (2008) incorporated belt-head prostheses that drew holding brushes in their mouths on gallery walls, while his most recent Moon Walks pursue his 40 year investigation of social space through the act of walking. An avid drawer and maker he is one of the four founding members of the Drawing Lab Dessin.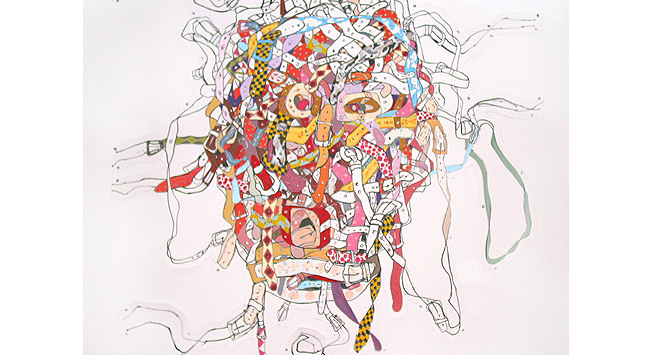 From 1700 Poste Exposition in Montreal: http://1700laposte.com/en/expositions/morelli/
Digital resources:
CIAC: http://ciac.ca/papiers-peints-francois-morelli/
Le Devoir: https://www.ledevoir.com/culture/arts-visuels/509203/francois-morelli-sous-toutes-ses-formes
La Presse: https://www.lapresse.ca/arts/arts-visuels/201709/29/01-5137937-francois-morelli-liberte-sensualite-virtuosite.php
Joyce Ahouda gallery: http://joyceyahoudagallery.com/en/artists/francois_morelli